The get down start
Throw back video for my folkers out in the Bay.
History lesson: On April 18th, 1906, the Bay was hit with 8.3(Mw) earthquake. One of the worst natural disasters in the history of the United States.
DALLAS TEXAS WHERE YOU AT?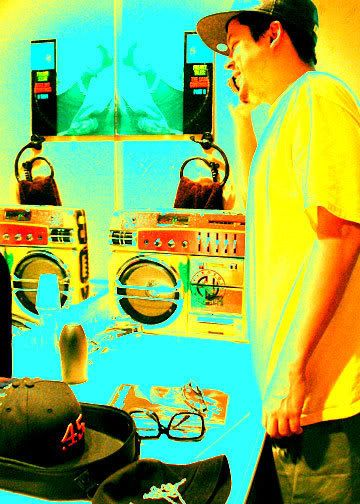 The homies in Dallas at
Central Booking
recently featured Witnes on their blog. April 20th will be the debut for Witnes up in Dallas at the monthly event "THE PARTY". Stand UP!
In other news, Squincy Jones and Witnes recently finished a new 30 min. mix of Hip Hop tracks only from 1987 and 1988 titled
"Do Ya Homework"
. "I can't stand when I'm playing at the club and some dumb smuck walks up, asking me to play some old school, and I say, ok what is old school to you?, and they reply....like some Biggie or Pac....MAAAAYYNNE FUNK DAT, Biggie and 2pac are not old school, this mix right here is old school." says Witnes. They whipped up the mix for an Urb mix tape contest and did not want me to list the track listing so you could, *CHA CHING* DO YA HOMEWORK! Good luck doggies!
BIRD FROM THE SOUTH SO REAL
Good ol' Bird Peterson just released his lastest project "Hot Noise". If you don't know about Mr. Peter, you best go research. The man is a genius with production that blends Electro/Crunk/Bmore/Breakbeat/Keyboard-Rock and anything else that goes on in that Bird size brain. Bird is the type of dude to go into Whole Foods and drowned himself in some patchouli oil to smell good for the ladies, and if the fact that he's from Texas doesn't sell you on it, I don't know what else to say!
Go buy it!
And being that it's hump day, here's the haps for the weekend.
Thursday 04.12.07 - Rock Box @ The Proletariat
FREE FREE FREE
903 Richmond drive
3 years and running, there's no other place to be than Rock Box.
NO COVER, NO DRESS CODE, NO PANTIES.
The DJ's are on top of their game when it comes to being taste makers and keeping it friendly at the same time.
Resident DJ's Witnes and Dayta
Guest DJ
Nonsense
Along with your host The President Reko Trill
Friday 04.13.07 - IT @ Club Riches
Holler at
Witnes
to RSVP and skip cover
2401 San Jacinto St
Witnes and Squincy Jones are holding it down in the Blue Room. They just recently started in March and the night is growing. This will be the jump-off night this summer.
Saturday 04.14.07 - Movida @ The Flat
FREE FREE FREE
1701 Commonwealth
Witnes and Antonio bring that sexy, cool out, feel good music. Funk, Soul, Breaks, Hip Hop and more. Come drink some mojitos and you will be dancing by the end of the night.