June Recap
This month has been non-stop! I'm bad at doing immediate recaps, but hey it's not really 1st priority. Where should I start?
ITS YA BIRTHDAY!
Rock Box thru down for
DJ Dayta's
birthday. The night started out kinda' slow, but by 12.30am, it was bumb n' grind central! Mayne! All I remember is by the end of the night I had too many drinks and when Dayta ended the night with Wine-O "Pop My Trunk', I was not ready to go home!
back that ass up
Knuck if you buck!
More pics
Houston hosted
Stones Throw
artist Breakatra. This event was live! Big ups to my man Joe Havanna for taking care of us! DJ Dayta and I hit the jawn' up around 11pm and walked up in there to get our social on. Since we had the special wrist bands on we got the v.i.p. treatment with free drinks and food. And you cant beat that with a bat!
Breakastra killed it!
cookie
At the end of the night we got the chance to kick it with the lead singer Wolf and other band members. Real humble cats. Then of course there was the after party that kept us out til' 5 n da mornin'.
party terrorist
More pics
Busta Rhymes listen'n event June 12th @ Touch
Mondays are industry night up at
Touch
with DJ Johnny J. The night started early with a preview to the new album the 'Big Bang' which I personally think is nice. Of course the more friendly songs like 'touch it" and "I love my b****" keep the dance floor packed, there are some other bangers that our worth buying the cd. My highlight of the night was talking to Brad Jordan, no homo......dipset!
My top 3 from the cd
1. New York sh**
2. Goldmine - (with Raekwon)
3. You Can't Hold The Torch - (with Q-Tip)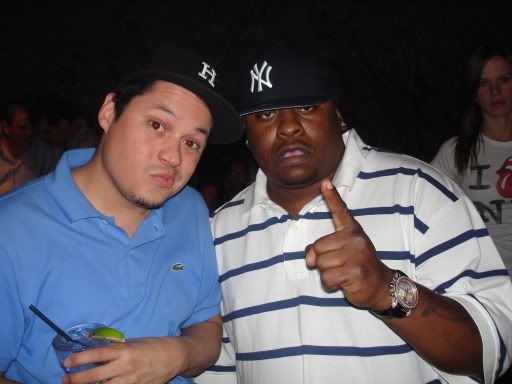 Witnes and Scarface
The Coup
The Coup made they way to H-Town. For a Tuesday show, the turnout was decent. That was my first time to see The Coup in person. They are doing the live band thing and would be perfect for a tour with Cee-Lo or The Roots. I got to chat with Boots who was a cool dude! Boy has been around for a hot minute and been reppin' the O (Thats Oakland) since way back during Too Short, M.C. Hammer, Spice One, Bay Area days. I was a little bummed that the DJ Pam was not on the tour. She is still down with the camp but has now moved on to bigger and better things. I am not mad at Pam. Take a listen to some tracks on the myspace page,
The Coup
yeah yeah now check the method!
Witnes and Boots
Debbie D from Avenue D @
Rock Box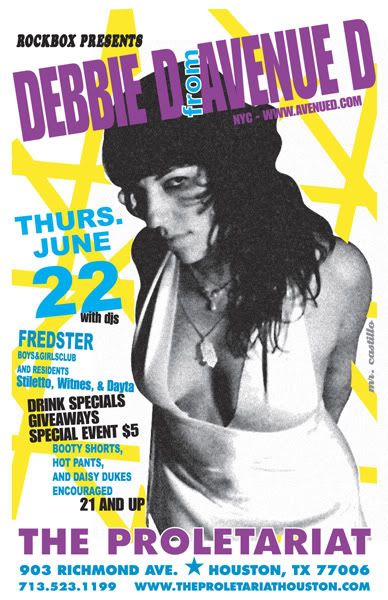 Pics coming soon!
Off to Austin!
If you like outdoors, the sun, and cool water, make sure you hit up
Barton Springs.
Shit is hella' fun!
2nd weekend in a row for me to roll back to Austin! Once again Dayta and myself teamed up with Prince Klassen to rock the house. One thing I always hear when I'm in Austin is "When you moving down?" well I can't answer that now! I love coming down, its a good place to break from H-Town and I have a lot of tight peeps that I love down here...... but MAYNE', nobody can F' with Houston's food! I'm sorry.
Chris, DJ Dayta, & Shi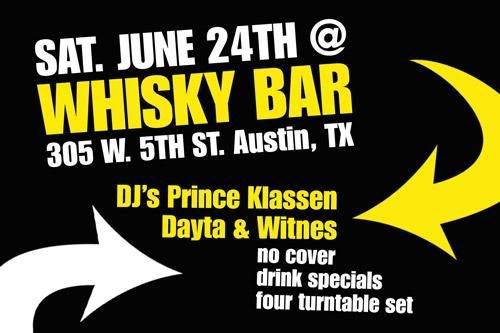 I had a blast Saturday night at Whiskey Bar, by 12:30am the place was bumpin'. One cat was requesting Dead Prez "hip hop" right in the middle of the climax, saying he'd toss me 100 but would have to go to the ATM, so I explained to him, we'll drop it at the end of the night, come back up with your loot and we'll make it happen. Well we dropped it last and he only tossed a $20 which was wack. Neva come with weak shit, you get beat down in Houston for pulling some shit like that.
3 amigos
DJ Dayta, Goro
Tips
Elvis the cat loves me!