News
Its been a minute since I've had the chance to update the blog! I just got back from Pheonix for a wedding, I felt like Vince Vaugh in Wedding Crashers using my gift of gab to rap with the bridemaids. Different than normal traditional outfits, peep cholo' Blues Brother outfits they had us in. I don't know which city heat I can stand better, Pheonix dry heat or Houston humidity heat, both will make you sweat. Damm!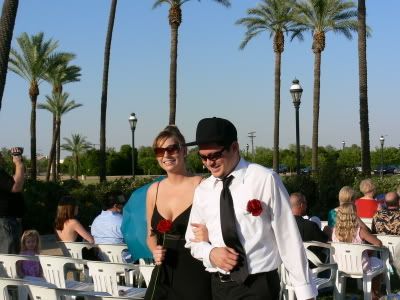 The end of last month was the jump off with
Tittsworth
and
NaNaChill
intown for a mini Texas tour. Its was a fun weekend! Tittsworth and his right hand man
Jinxx
were some of the coolest, humble cats that were ready for some good ol' Texas fun. Both shows went off well. Austin was a blast with DJ Klassen holding it down at Beauty Bar. So if your still asking yourself, who is this Tittsworth guy? Peep out this dope mix by Titts, shit will start your day or night off right
Titts Mix
or go to his site to preview more tracks! Check out more pics from the weekend right hurrr!
NaNaChill pics
One October Night

DJ Morsy, Tittsworth, Honeydips, and Dayta



NUTTIN LIKE TEXAS BBQ!



That boy Jinxx

This Months line up for Rock Box is gonna' be off the chancla (thats flip flops in spanish). This week kicks off Dayta's 22nd birthday, I hope the night closes with a happy ending for the young Jedi. Also that girl Debbie D of
Avenue D
is makeing her 1st appearance at Rock Box on the 22nd so mark that on your calender.
The Coup
is intown this month on the 20th @
Warehouse Live
! I'll be in the house dj'n between acts and I know there's some true Coup fans from back in the day that our down with the duo. Peep out there new cd Pick A Bigger Weapon, shitz' nice!
And last but not least, I've completed my latest 50 min. mix titled Summer Mix 06
Tracklisting
Inoj - My boo
The Diplomats - I wanna be your lady
Slim Thug/Mike Jones - Still Tippin (uptempo mix)
Stacey Q - Two of hearts
Avenue D/Salt N' Pepper - Do I look like a slut
69 Boyz/36 Mafia - Dippin' my collar
Missy Elliot - Speak my name (DJ Ayres and Cosmo Baker)
Spank Rock - Put that pussy on me (Pretty Titty mix)
Death From Above 1979 - Sexy Results (MSTRKRFT edition)
Bloc Party - Helicopter (Diplo remix)
Metro Area - Orange Alert (DFA mix)
Miss Kittin & The Hacker - Life on MTV
Killer Mike ft. Big Boi - My Chrome
DJ Technics - Get up on it and ride that thing
Low Budget - What you know (bmore)
Sheila E - Glamorous Life
The Heart Attack - Gangsta Boogie
Nocera - Summertime, Summertime
Currently these sites have it up to preview. Big thanks to
Buhbomp
Discobelle
NaNaChill
Couch Sessions
You can also download it at megaupload
witnes - summer mix 06'
. Big shout out to my man Robmo for taking time to help record. Check out some of his tracks, dude is always making some new shit!
Makestapes
Til' Next Time!