Weekend Recap
Friday Them 2 (Witnes & Dayta) left Houston around 4pm in route to Austin. That night I hit up Beauty Bar to check the Mother F**kin Prince rock the spot. I had to tip him some "dollar dollar bills yall" for the heaters he was playing. An old friend from high school
Cara Gambini
whom I haven't seen in over 14 years accompanied me. She was telling me some crazy throw back stories from high school that is all a blur to me. One story about how one ex girlfriend was super jealous that Cara and I were friends and at a party the ex broke a bottle and was going to try and slice Cara up. DAMM! You would think that I would remember a story like that, but I guess not. Ran into my boy Chris of Mad Gods and
Nick Nack
who is constantly making moves in the ATX. Be on the look out for him coming up to
Rock Box
in the future, dude is ill. Around 1:45am, Cara, Chris and myself hit up some late night Thai grub that is worth checking out,
Thai Passion
.
Saturday, Meet me at the mall, its going down! Klassen, Dayta and myself hit up the mall on some Mallrat biz! We needed to walk off the
big breakfast
we ate and the mall is safe from thugs and has plenty of site seeing, i.e. The Apple Store, Lids, sneakers and
Klassen's friend
. AIRHORN! We also ran into
DJ Mel
and he told us a story from Friday night, that while in the middle of dj'n some dude came up to him and spit beer in his face. That shit is wack. People trying to hold a conversation with the dj, wack! Mel invited me to come back down on October 28th to play SWOLL @ The Beauty Bar, be on the look out for that. Hopefully no one will spit on us, because if that shit happens to me, my serato record will become a weapon.
Saturday night, it was Purple Drank time. Crowd was a little weird. And by 11:30pm girls were all up on the stage dancing, making request, and bumping the tables, all that fun stuff that comes with dj'n. We set it off regardless and made the best out of it. After Whiskey bar we hit up
Kerby Lane
again. We sat up there and talked until 6am. Dayta tried to get his holler on with this girl from Jordan but I think he was a lil' too tired. And I was talking shit about the hostess who had terrible customer service. Say ho, yeaaaahhh you, where the F is my coffee? On a brighter note our waitress was sweet; she said "right on" a lot, that's when you know you are in Austin, right on!
Sunday got up, grabbed lunch at
Which Wich Superior Sandwiches
. This spot hits hard, trust me. We hit the road about 3pm to get back to Houston for the Premium Goods 2 year anniversary. Them 2 walked up in the place, lights, camera, action, having ya' singing I'm sorry Miss Jackson.
DJ Bobbito of NYC
was on the one's and two's creating a warm vibe. I would say half of the people there probably didn't know the history on him. Bun B and Scarface were both in the house as well as urban gear hipsters. It was hella' hot inside so we camped out in the 21 and up tent with the dumb cold A/C, hit up the free Belvedere and got our social on.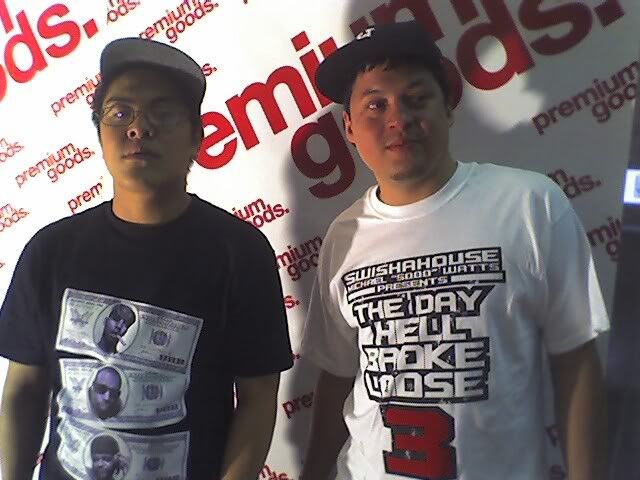 2:30am Breakfast at Denny's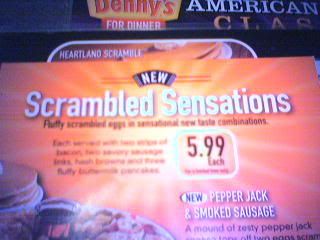 So now its Monday, the count down is on for the week! This Thursday at Rock Box, guest DJ I-P Freely is making his 1st appearance behind the wheels. Then Friday I'm off to NYC.