Thought I was a Donut!
Glazed TracksThis sweet party is Dee place to be
BY TRAVIS RITTER
Why did Detroit native Eminem to travel to sunny Southern California to hook up with Dr. Dre, when he had super producer
Jay Dee
-- a.k.a. J Dilla -- in his backyard? Maybe it's because Em digs the hardcore thug aesthetic, and Jay Dee is more a purveyor of the chill, smart-rhyme sound. (He's been the go-to man for A Tribe Called Quest, De La Soul, Common and Busta Rhymes.) After staying behind the scenes for half a decade, the producer is coming to the forefront with his first solo instrumental disc,
Donuts
, and today, the folks behind the weekly Rock Box parties at The Proletariat are holding an official
Donuts
listening party, just one of many concurrently happening around the country. And here's something sweet: You can enjoy complimentary donuts throughout the night as you check the 31
Donuts
MC-free tracks, which are glazed with soul, hip-hop and funk. A party like this may make you feel like Homer Simpson at Shipley's. But don't worry -- you'll eventually burn off those empty calories by shakin' your ass. 9 p.m. For tickets, call 713-523-1199 or visit
www.theproletariathouston.com
. Free.
Thu., Feb. 2The Proletariat, 903 Richmond, Houston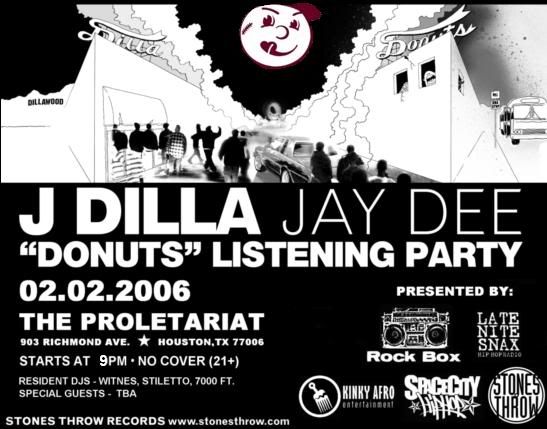 No Cover! Get there early, tell a friend, bring a friend! Repost.
J Dilla "Donuts" 9pm-10pm cd preview!

GUEST DJ'S


Stiletto 10pm-11pm with selections of booty shakin, back that ass up tunes!

Damon 11pm-12am of Boys & Girls brings his touch of electro and old school tracks to the mix.

DJ Cipher 12am-1pm of the KrackerNuttz Bring'n the party favorites out and bout tear the roof off the mothasucka!

Dayta 1am-2am of NaNaChill Rock Box newest rotating resident brings the next level tracks intended to make pelvics thrust!


RikoTrill is this evenings host with his straight up cocky attitude ready to call out people that deserve props or deserve to be clowned!